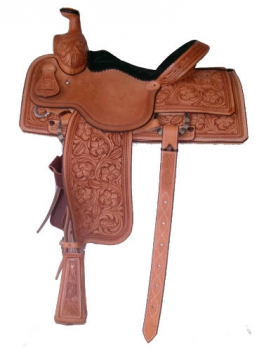 Jeys Saddles
Base Price: $3,100.00
Jeys Saddlery uses high quality materials to build you the best saddle you can buy for the money. Herman Oak leather and a Wood, fiberglass covered tree are the building blocks upon which the saddle begins. Todd skillfully crafts each saddle as if it were his own, and he trains every employee in the same way. Remember, if you don't see exactly what you want, just ask for it, and Todd will do what he can to get you in your own Jeys Saddle.
JEYS SADDLERY ALSO BUILDS TROPHY SADDLES FOR ALL YOUR EVENTS!! GIVE US A CALL TO DISCUSS DETAILS!!
How to Order Your Saddle
Custom saddles are priced depending on the options you choose. We can build anything you can describe.

Print the Order Worksheet out to help you select the custom features you would like to include in your saddle.

***A 50% deposit (on the quoted price) is required on all custom saddles.***
You can call me at (325) 653-3515 to discuss options or for a price quote. To select your saddle you might want to come to our shop here in San Angelo, Texas.